8 tips to consider in equipping yourself or your team to work productively from home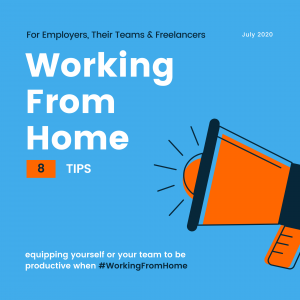 by Steve Threlfall
9 July 2020
According to the Office for National Statistics, in the 7 days leading up to 14th June, 49% of the UK's workers were working a whole or part of the week from home. It is considerable how literally millions of us (many of whom would consider ourselves technophobes) have adapted radically quickly to working remotely through necessity. None of us know how quickly many workplaces will fully re-open and how this will look. Through discussions with friends, neighbours and clients (teams and managers) it is apparent that looking beyond Covid-19, many are seriously considering how remote working may assist their work life balance once the pandemic has passed.
Whilst we are a few months in after the start of lockdown, many individuals and organisations are working pretty effectively, but most workers are still 'camping out' at home – In response to this we've pulled together a list of 8 useful tips for individuals and employers to consider as we collectively seek to maximise productivity and well-being whilst our work and home lives increasingly blur.
1. Staying focused – I know I can be easily distracted at home should I allow it – whether the beckoning fridge, a Netflix box-set recommendation, or those darn social media feeds. Try the Pomodoro technique – there are plenty of apps to support this (I use the Focus Timer app on my phone). The basis of the technique is organising the working day around 25 minute bursts of concentration and focus, interspersed by 5 minute breaks. Whether taking a step outside, making a cuppa, or engaging in a limited intake of social media – these distractions become earned rewards!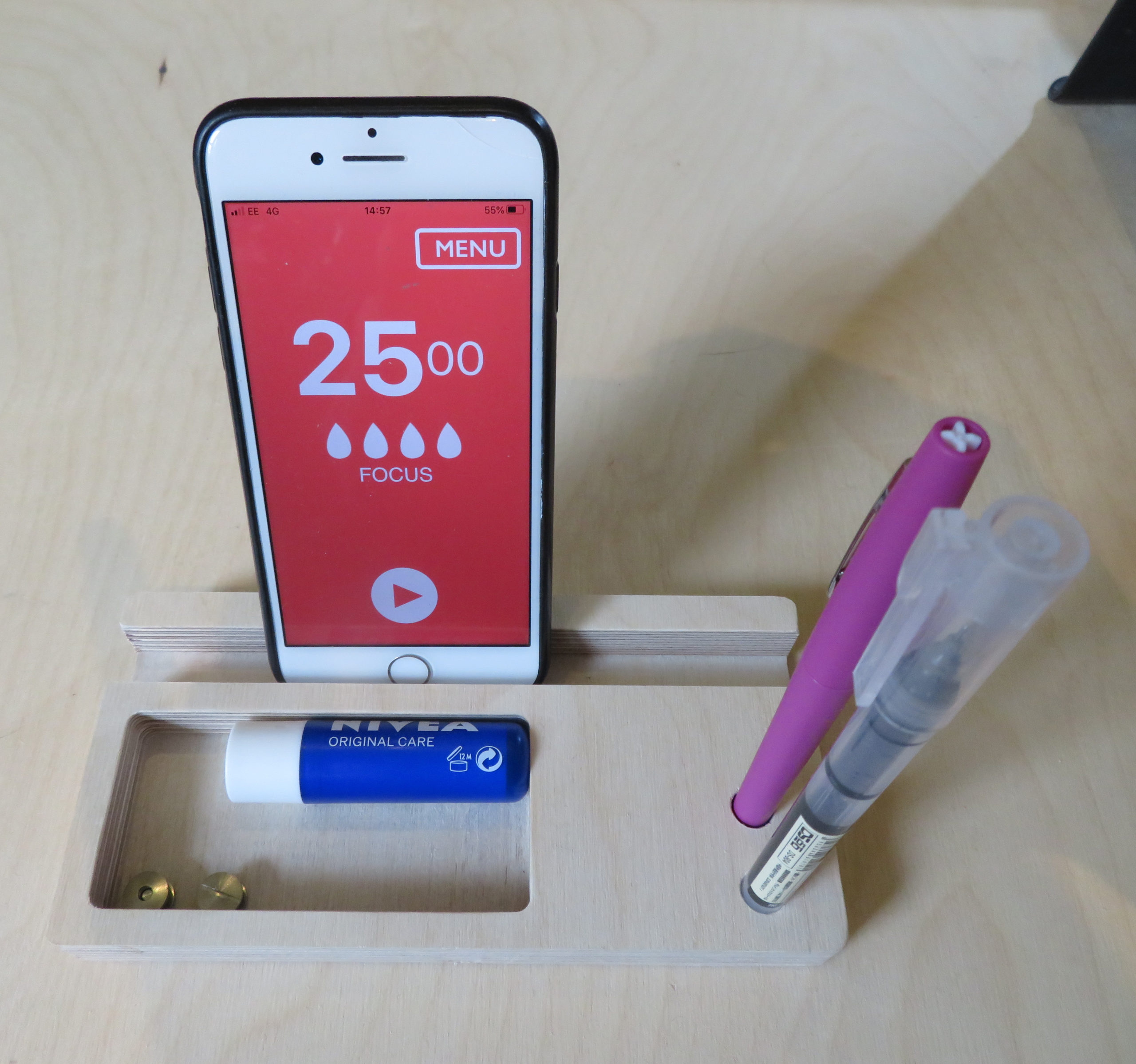 2. Good workspace lighting – Good lighting is critical, whether for reading, manual tasks, or helping to maintain a sense of well-being now that it is no longer sunny every day of lockdown! Task lighting (adjustable desk-based lamps) can provide good work area lighting at minimal cost, when access to daylight or quality lighting are restricted. Daylight simulation bulbs can really help to overcome issues of SAD (seasonally affected disorder) which impacts many of us during shorter, darker days.
3. Viewing angle of computer monitor screens – At desk level, many computer monitors are too low, only viewable by cranking our necks downwards, which for a full day only benefits a chiropractor! Some monitors have height adjustment on the back or you can alternatively pop it on a stack of books or rigid box. A 90-100mm step-up from desk height is a good rough guide. To tackle this,  I've been working with our colleagues at We Make Places on the design and manufacture of a monitor stand (with stowing space beneath). As well as addressing personal health in use,  profits from the stand  supports Urban Workbench's  joinery and construction learning workshops.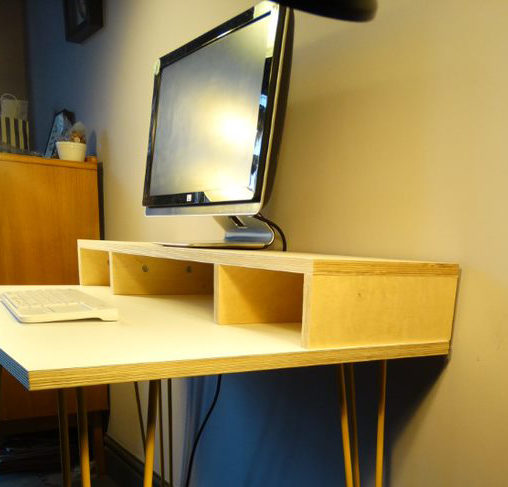 4. Hands-free zoom and face-time calls – Another plug for the Urban Workbench range! – I've worked on various plywood stands which  facilitate the propping of phones and tablets – you can attend those numerous zoom meetings or facetime family, whilst being able to leave your device angled to view, hands-free, plugged in and charging.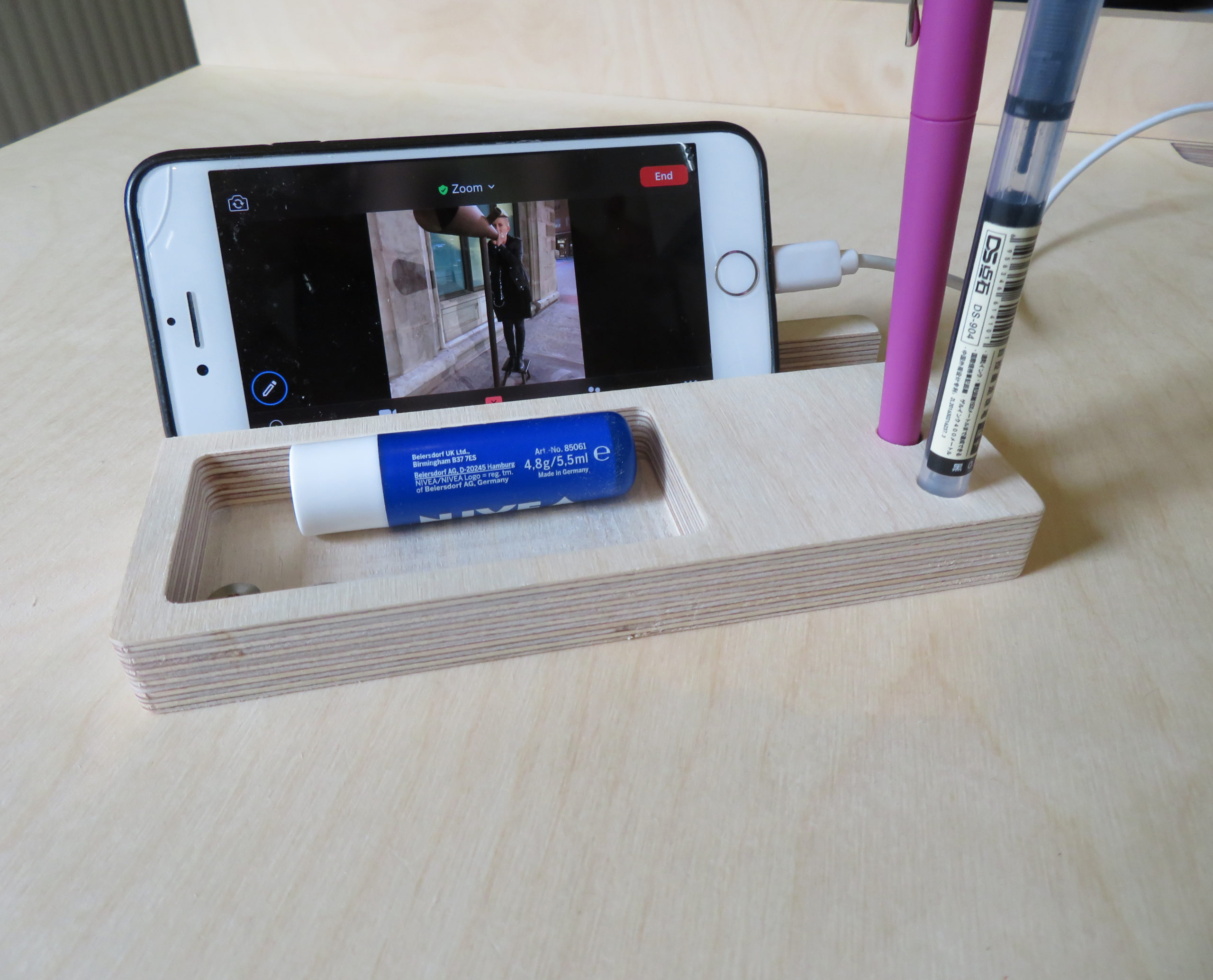 5. Seating – This is typically the biggest ticket item but by far the most important for providing a healthy and productive working space. To reduce cumulative back problems, your thighs need to be angled open more than 90degrees to your upper body – this position  naturally tilts your pelvis forward and reduces strain on your back. You can achieve this posture by tucking your feet back beneath your chair. If you do buy an office chair, check this posture is possible with adjustment of the seat and back. If the chair comes with arms, I'd advise (from experience) that you remove them. If you don't have the budget for a healthy chair, use those 5 minute pomodoro breaks to get up, stretch and move around.
6. Consider a wireless keyboard for your laptop – particularly with smaller laptops, we can end up hunched over the keyboard and too close to the screen. Using a wireless keyboard you have the option to move you screen back and raise it to improve posture and reduce eye strain.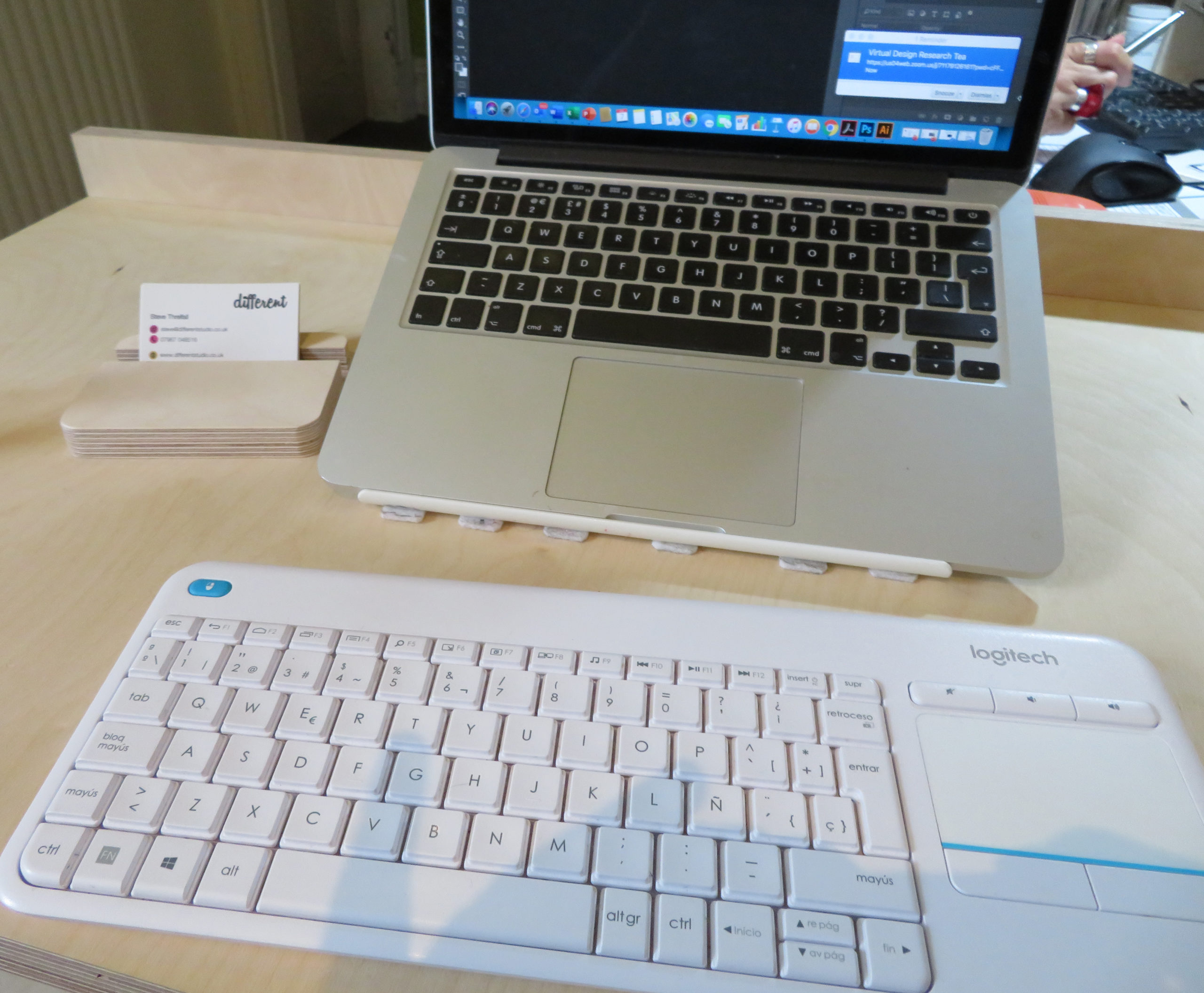 7. Haggle on tech! – This is aimed at social enterprises out there. There are various tools and apps that we didn't know we needed until remote working swiftly became a reality. As a CEO of a social enterprise, my wife has become adept at negotiating impressive discounts by just asking the question. If you operate a social enterprise or charity, don't be afraid to haggle.
8. Storage – This is particularly important for those without a dedicated room to be able to call the home office. Where work space usage is shared with our domestic lives, good storage (with doors and/or drawers) is a crucial means by which we can  physically and mentally put things away and 'leave work' at the end of a shift.
Steve Threlfall is the founder of Different, a commercial interior design studio, Senior Lecturer of Interior Design at the Manchester School of Art and co-founder of We Make Places CIC (incorporating Urban Workbench).
Different studio will be happy to provide advice and design services for individuals and organisations seeking practical and creative design support for the new challenges (and opportunities) that changing ways of working present to everyone. We're always available for a Zoom coffee!