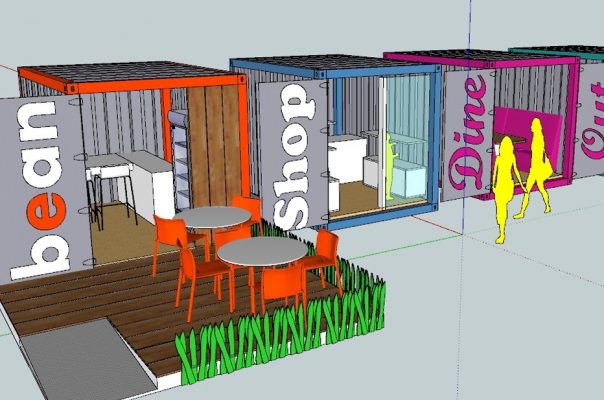 different has a history of provoking debate in the city – 1st was Kinetik – see it in our Portfolio Concepts section. Next was our proposal to animate Williamson Square with local indie retail pop-ups & food & drink…..
When Liverpool based Independent Retail champion made-here asked us to collaborate with them last year (July 2012) on their proposals for a pop-up festival across the city, one of their ambitions was to regenerate Williamson Square
The recent article in Sevenstreets reminded us of our joint efforts to convince the powers that be that another Bier Keller was not what Liverpool needed for Christmas and that Williamson Square was the untapped gem in the city.
Our proposal included the use of flat-pack containers to create individual units on a temporary basis
In the past we have run Inspirational Architecture Tours for school groups and Williamson Square has always got them enthused – it's seating is great for chatting in groups and it is well positioned for great daylight – we look forward to seeing a collaboration of public and private sector to ensure a better and more appropriate tenant mix which can provide the ambience they talk about in the SIF
Back in July 2012, made-here wanted to animate the square by introducing temporary structures and programming retail and food & drink around the space – ensuring a profile for local independent retailers, local restaurants and even for school enterprise projects, something we would have collaborated on delivering
The project was presented to a meeting of City Councillors, Council Officers and public sector regeneration partners, It was also taken separately to Liverpool's biggest retail landlord.
Sadly, whilst everyone in the room agreed it was a great idea, there wasn't the will to back it and Liverpool got a Bier Keller for Christmas. Since then and publication of the SIF we have seen another host of fast food, betting and cash converter type outlets open in either the square or the roads around it.
With a dearth of affordable, appropriately sized (smallish) retail units available for local businesses to rent, this zone in the city surely has the potential to create the right kind of quality independent retail and leisure environment that would celebrate and "differentiate Liverpool's shopping offer" as described in the Council's vision of 2000.